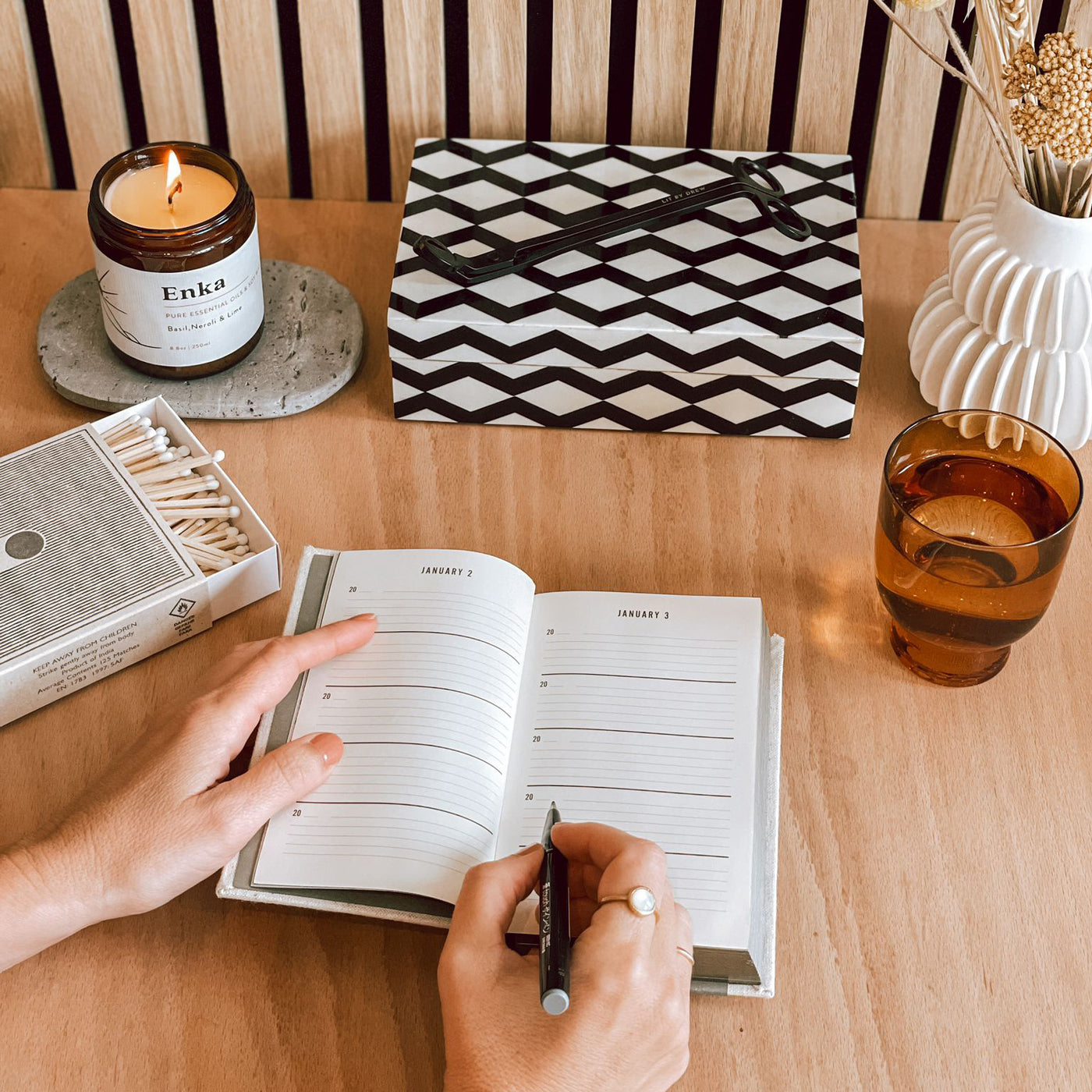 An Introduction to Journaling Workshop
£30.00 GBP
We'd love it if you joined us for our Mindful Journaling Workshop hosted by Olivia Charlotte, founder of Hello September. An opportunity to spend an evening in our studio chatting with friends (or making new ones), enjoying a glass of wine and learning a new skill.
Olivia's journaling workshop will introduce you to the mindful art of journal writing and teach you how best to incorporate it into your lifestyle, whether you want to take time daily, weekly or monthly to pause and engage in this therapeutic activity.

The workshop will run for 1.5 - 2hrs, a relaxed, guided journal session to allow you the time to reflect and discover how putting pen to paper can have a positive impact on your wellbeing. You will be guided through various prompts and exercises to help boost joy and happiness. You will be given a journal to use on the night, that you will be able to take home with you to continue your journaling practice.
Journaling is an expressive and nurturing activity that assists us in externalising our thoughts and gaining clarity from our experiences. It enables us to engage in introspection, reflecting on the past while also envisioning our aspirations for the future. By engaging in journaling, we can embrace a slower pace, granting ourselves distance from our thoughts and potentially gaining a fresh perspective, to move forward feeling fresher and more energised.
What we will provide
byFoke Slimline Printed Notebook (A5) - designed by Casey and printed in England using FSC® certified, 100% recycled materials, which can of course be recycled again once finished, although I expect once you have filled your journal you will want to treasure it for years to come.
Journaling Guidance and Instruction - A relaxed friendly workshop where you will learn all the basic skills required, ask as many or as few questions as you like.
Complimentary Drink - A glass of fizz or a non-alcoholic cold drink.
Writing Materials - We will provide you with any pens, pencils, papers that you will need for use during the workshop.
What you will take home
byFoke Slimline Printed Notebook (A5) - you will be able to take your journal home with you to continue the mindful practice of journaling in the comfort of your own home.
Location
All of our workshops will take place in our studio at the back of our shop in Poundbury. byFoke, Crown Square, Poundbury, DT1 3DY
Access
We have full wheelchair access to the studio and bathroom facilities. Please do let us know in advance if you will be attending in a wheelchair as we may need to adjust our workshop table as it is currently quite high, but it can be adjusted to suit your needs.
Workshop Cancellation
We understand that sometimes circumstances change and you may not be able to attend the workshop that you have booked. If that is the case please let us know as soon as possible and we will try and move your booking to another date. Please find our full workshop cancellation policy here on our refund page.