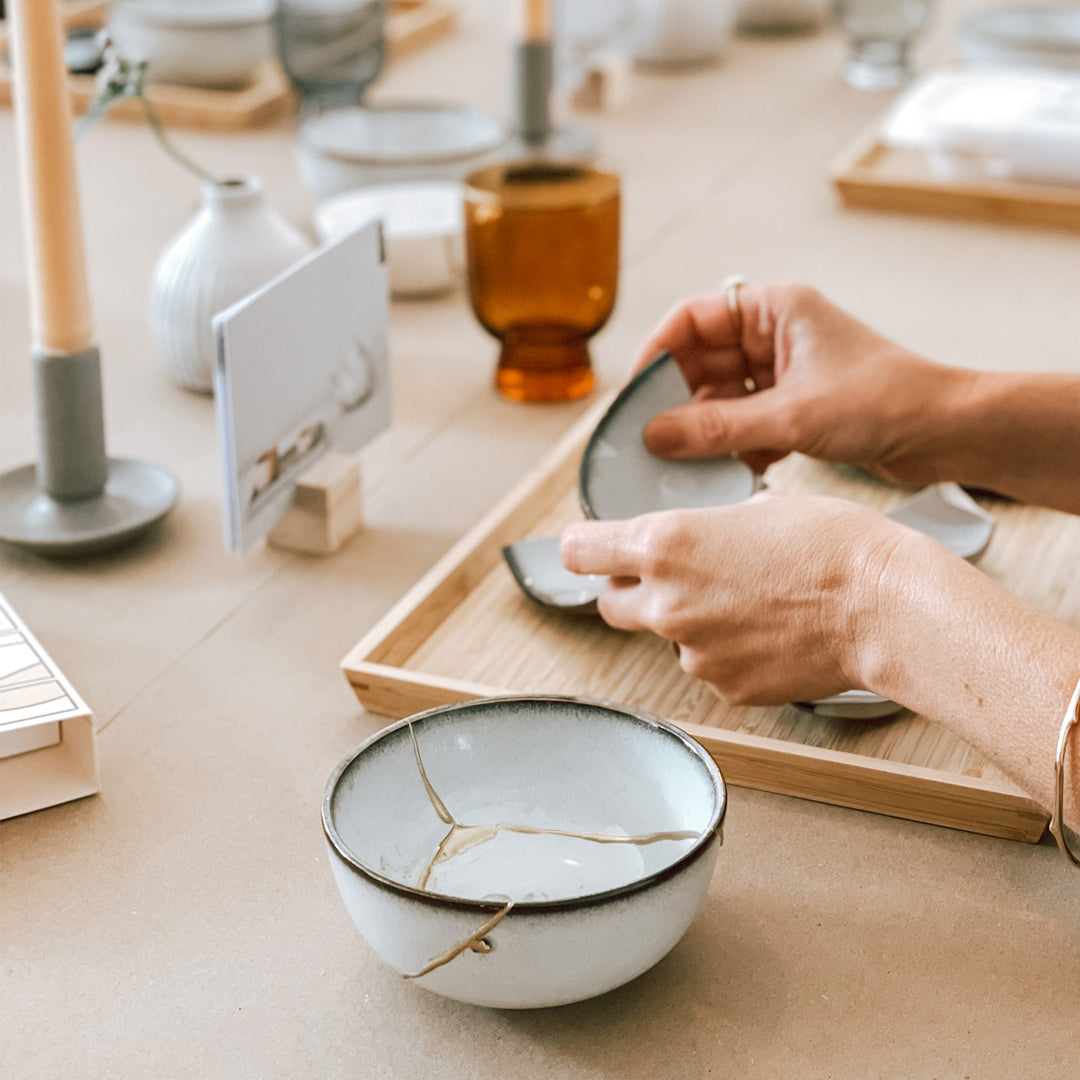 Kintsugi Workshop
£44.00 GBP
We'd love it if you joined us for our Kintsugi Workshop for Beginners. An opportunity to spend an evening in our studio chatting with friends (or making new ones), enjoying a glass of wine and learning a new skill.
Kintsugi is the Japanese art of repairing broken pottery using gold. As a philosophy, it treats breakage and repair as part of the history of an object, rather than something to disguise. An ancient technique that resonates perfectly with the sustainable practices of today, an opportunity to embrace imperfection and celebrate repair.
During this two hour work shop, you will learn the basics of the kintsugi technique and have a chance to try these techniques for yourself under our guidance. You will be given your own Kintsugi repair kit to use during the evening and to take away with you to work on future Kintsugi projects. You will have the opportunity to work on two different pieces on the night so that you can fully explore your new skills and practice your techniques. At the end of the workshop you will be able to take your pieces away with you to treasure for years to come.
You don't need to have any previous experience or special skills to take part and enjoy this workshop, it has not been designed to make you an expert in Kintsugi (that takes years), but these basic techniques will allow you to beautifully repair objects at home and the more you practice the more you will be able to achieve.
Practising the art of Kintsugi is a very relaxing mindful experience that you may find you get hooked on!
What we will provide
Humade Kintsugi Repair Kit including; Two component glue, Putty to fill up missing bits and pieces, Gold powder, wooden brush, bamboo sticks, gloves, step-by-step manual with detailed pictures. The kit can be used multiple times to repair up to 10 items (dependent on size and complexity of breaks).
Ceramics - Up to two pieces of pottery for you to break and put back together.
Kintsugi Guidance and Instruction - A relaxed friendly workshop where you will learn all the basic skills required, ask as many or as few questions as you like.
Complimentary Drink - A glass of fizz or a non-alcoholic cold drink.
Protective Wear - We will provide you with an apron and gloves to wear while you are working.
What you will take home
Humade Kintsugi Repair Kit - your kit will have plenty of materials left and the full instructions so that you can complete more projects at home.
Completed pieces from the night - two new Kintsugi repaired pieces for you to enjoy at home. (please note the pieces will take 48hours to fully cure, you will need to handle them very carefully during this time)
Location
All of our workshops will take place in our studio at the back of our shop in Poundbury. byFoke, Crown Square, Poundbury, DT1 3DY
Access
We have full wheelchair access to the studio and bathroom facilities. Please do let us know in advance if you will be attending in a wheelchair as we may need to adjust our workshop table as it is currently quite high, but it can be adjusted to suit your needs.
Workshop Cancellation
We understand that sometimes circumstances change and you may not be able to attend the workshop that you have booked. If that is the case please let us know as soon as possible and we will try and move your booking to another date. Please find our full workshop cancellation policy here on our refund page.