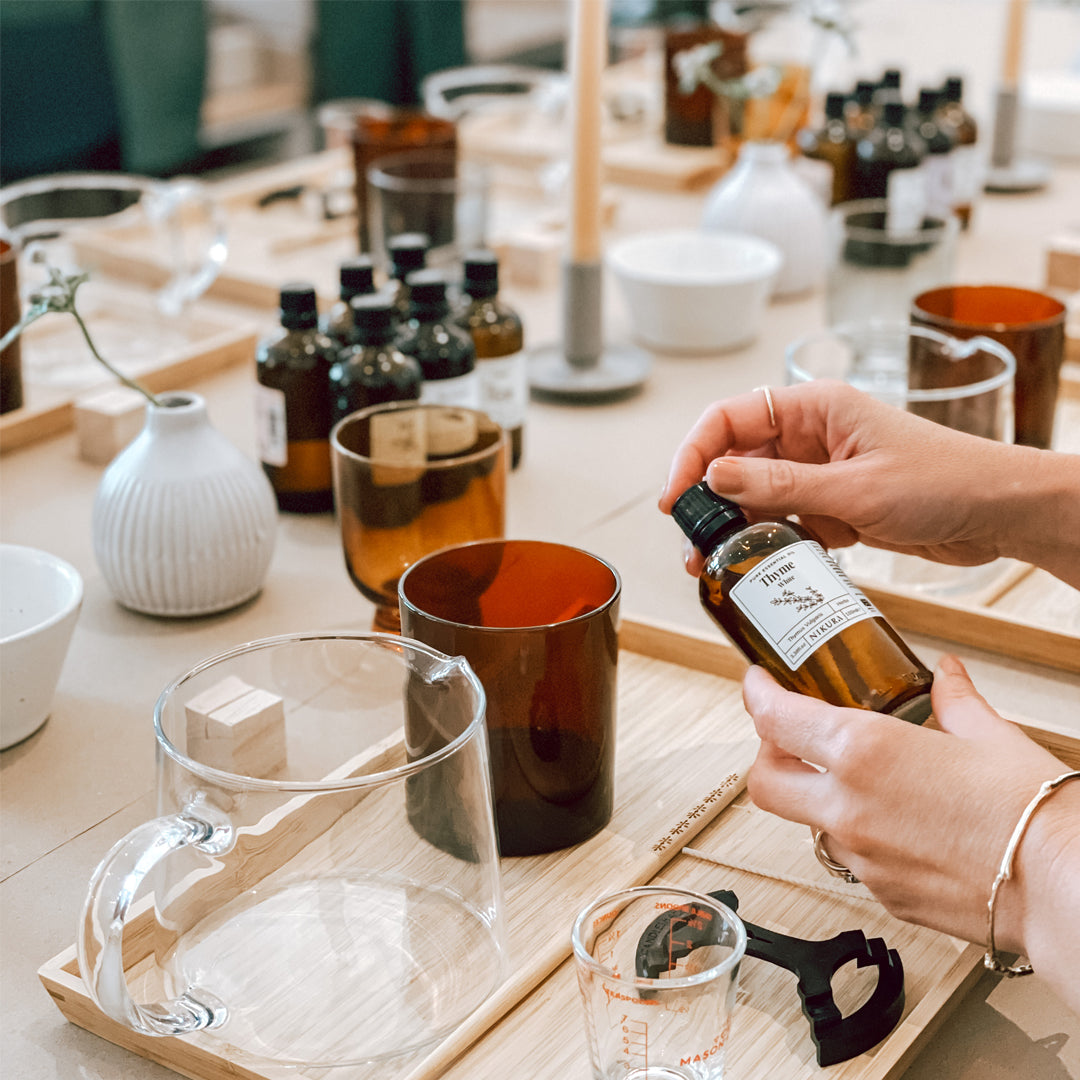 Essential Oil Candle Making Workshop
£32.00 GBP
Our Candle Making Workshop is a wonderful opportunity to spend an evening in our studio chatting with friends (or making new ones), enjoying a glass of wine and learning a new skill, at the end of the workshop you will take home your very own natural essential oil soy wax candle.
The evening will start with an opportunity to smell a range of different essential oils and learn about the different properties and benefits of each. Choose up to three different oils to scent your candle based on your desired aromatherapy outcome and personal scent preference.
Once you have chosen your scent combination, mix your essential oils into natural melted soy wax and pour your candle into your chosen vessel. Choose a name for your candle to be added to your personalised label.
Your candle will need to be left overnight with us to cure and then can be collected the following day.
NB: As a precaution, we don't recommend this workshop if you are pregnant as you will be smelling different essential oils, some of which are not recommended for use when you are pregnant. 
What we will provide
Candle Making Guidance and Instruction - A relaxed friendly workshop where you will learn all the basic skills required, ask as many or as few questions as you like.
Candle Glass - Choose your preferred candle glass between clear and amber.
Soy Wax - Natural soy wax to make your candle
Essential Oils - A selection of pure essential oils for you to choose from to make your perfect scented candle.
Candle Making Equipment - All the equipment you need for the workshop will be provided.
Complimentary Drink - A glass of fizz or a non-alcoholic cold drink.
Protective Wear - We will provide you with an apron to wear while you are working.
10% off on the night - As a special treat for joining one of our workshops, we'd like to offer you 10% off any purchases you would like to make in the shop on the night. 
What you will take home
Your personal essential oil candle - 280ml essential oil soy wax candle in a glass vessel, with a wooden lid that doubles up as a coaster for your candle.
Location
All of our workshops will take place in our studio at the back of our shop in Poundbury. byFoke, Crown Square, Poundbury, DT1 3DY
Access
We have full wheelchair access to the studio and bathroom facilities. Please do let us know in advance if you will be attending in a wheelchair as we may need to adjust our workshop table as it is currently quite high, but it can be adjusted to suit your needs.
Workshop Cancellation
We understand that sometimes circumstances change and you may not be able to attend the workshop that you have booked. If that is the case please let us know as soon as possible and we will try and move your booking to another date. Please find our full workshop cancellation policy here on our refund page.