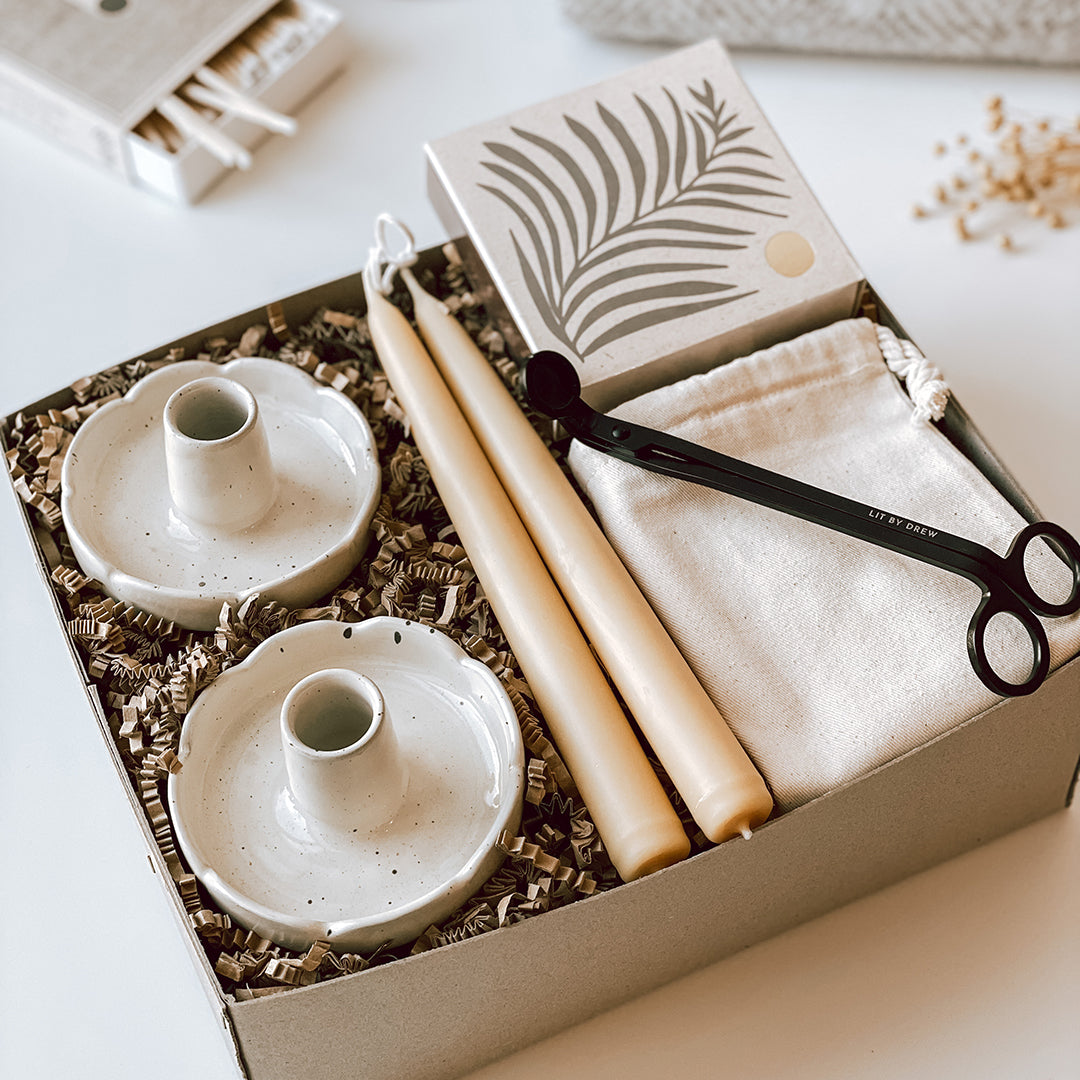 Cora
£57.00 GBP
The Cora gift box is a candle lovers dream, the perfect set to create a warm and inviting ambiance in any room. The centrepiece of this luxurious gift box is a pair of stoneware candle holders, with a delicate flower shape. Hand-thrown in Nepal each candle holder is unique and has been designed to fit our beeswax candles perfectly. Also included is a beautiful box of letterpress matches and a wick trimmer so that you have everything you need to start using your gifts straight out of the box.
Whether you're looking for a thoughtful housewarming gift or a luxurious treat for yourself, this gift edit is the perfect choice.
Packaged in a Complimentary byFoke Gift box, wrapped in ribbon and with a hand written card.

100% Natural & cruelty free. All packaging is recyclable and plastic free.
Don't forget to add your gift message on the View Cart page!
Contains:
Earth Flower Stoneware Candle Holder - Hand Thrown in Nepal, each of these exquisite candle holders is unique. Featuring a natural coloured speckled glaze. Will hold a standard sized taper candle. Materials & Dimensions; Stoneware, 10cm x 5cm. Fair Trade.
Pure Beeswax Standard Taper Candles - Hand dipped here in the UK, these 100% Pure Beeswax Candles have the most beautiful mild honey scent and look stunning both lit or unlit.  These standard tapers fit most standard candle holders. This set includes 1 pair of our Standard Taper Beeswax Candles. Materials & Dimensions: 100% Beeswax. 228mm x 22mm. Contains 1 x pair (2 x candles).
Luxury Matches in Large Square Letterpress Box - Dimensions: 110mm x 110mm, Designed, printed and assembled in the UK. (Match design may vary)
Candle Wick Trimmers in a cotton pouch - Prolong the life of your candles by carefully trimming the wick before each burn. Made in the UK.